Frontpage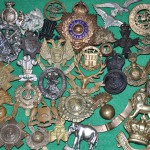 Welcome to my site.
NOTE that generally these badges is not for sale. NOTE THAT I am selling the items in the blogs "For sale"  ONLY.
This is where i will post  different military badges that i have collected.
The goal of this blog is to focus on military badges -mainly on  Commonwealth hat gear badges- but a wide interest of other badges are also encluded. I want to provide accurate information to the collector, historian or any interested person so that people can easily identify a specific military badge and also differentiate an authentic badge from one of many copies,  restrikes, fakes that are now sadly popping up everywhere.
I also want to document all the more special badges which is not yet documented in any books or anywhere. To fulfill this I need help from all of you out there. If you have any information on some specific badge or picture you wish to contribute please contact me through the email. Please take a look on the unknown category, perhaps you have that information I need.
Please fell free to browse the site and comment the badges. You can select a country from the topmenu to view badges from a specific country. you also have the option to search of use the tag cloud if you like.
I will continously add more badges.
If you have any questions,  please fell free to send me an email, or contact me through comments on the specific page.
Best Regards
Niels Pedersen
All the numbers used refers to the books bellow:
GR= Guido Rosignoli (Army badges of WW2 Book 2)
RC= Reginald Cox (Commonwealth Military badges of WW1)
CO= Collin Owen (Military badges of Southern Africa)
KRH= Keith Raymond Hartwell ( Ink & Images WW2)
KK= King & Kipling (British army badges)
RH= Robin Hodges (British Army Badges 1996)
DC= David A. Corbett (New Zealand Regimental Badges)
FF= Foreign Volunteers no 238, Men at arms series
MH= Malcolm C. Hobart (Badges & uniforms of RAF)
EM= Eric Micheletti (World Elite Forces)
GRI= Guido Rosignoli (Allied Forces in Italy 1943-45)
JG= John Gaylor (Military Badge Collecting)
BLO= W.H. & K. D. Bloomer (Scottish Regimental Badges 1793-1971)
AW= Arthur Ward (British Cap Badges of the Twentieth Century)
PRB= La Gallerie Numismatique, Auction 7 Polish Regimental Badges
                 (Westbury Mayfair Hotel-London sept 26th 2005
PT = Allied Special Forces Insignia 1939-1948 by Peter Taylor
PO = Polskie Sily Zbrojne 1939-1947 by Benedykt Wojciechowski & Zdzislaw                                       
            Sawicki, Gdynia – Warszawa 2009 
GRA= Guido Rosignoli, Air Force Badges of ww2
BT= Bragg & Turner: Parachute Badges & Insignia of the World
CW= Colin Churchill & Ray Westlake: British Army Collar Badges
BC= Barry Renfrew: British Colonial Badges
RC: Rolf Christensen: Belgiske Medaljer
SOM= P. McDaniels & P. Schmitt: Soviet Orders & Medals