New book about Danish Defense badges – The Danish Army – Part I Forsvarets Mærker bog
Welcome to my military badges website. Please note that this is mainly a page where I display my collection. However, there are some things that can be bought in addition to the books that I have published – shown below. If you go to the blog "For Sale" there is a lot of different things that I sell and that you are welcome to buy. Prices are listed for most things. You are also welcome to obtain an offer if you wish to place a larger order. Payment conditions are shown further down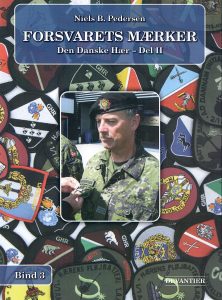 Forsvarets Mærker bogserie
Lige Nu: Supertilbud på alle tre Bind i Borgserien om Forsvarets Mærker. Bind 1, 2 og 3 som indeholder ca. 8000 mærker der har været brugt ved forsvaret siden ca. 1750 og op til i dag. Her er et superknaldgodt tilbud. Få alle tre bind for 750 inkl fragt til nærmeste pakkeshop. Gælder kun til adresse i Danmark.
Right now: Super offer on all three volumes in the Book series on the Badges of the Armed Forces. Volumes 1, 2 and 3, which contain approx. 8,000 badges that have been used by the Danish Armed Forces since approx. 1750 and up to today. Here's a super great offer. Get all three volumes for 750 danish Crowns. Applies only to addresses in Denmark. For shipping abroad, shipping is added.
Betaling i Danmark på enten Mobilpay eller overførsel til konto. Payment from abroad through Paypal. Write to elpris@yahoo.dk Niels B. Pedersen
The book is the first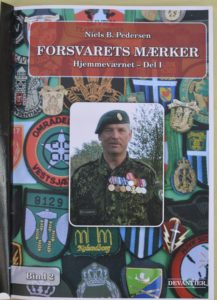 in a series of seven volumes, dealing with regimental badges, subdivision badges, pocket badges, competence badges and individual drug marks from the Danish Army during the period approx. 1750 to today.
Collectors and other historically interested people have been calling for books on these topics for years and can now look forward to the first book containing images and descriptions of more than 2.400 badges.
The subsequent volumes will cover both metal and fabric badges from the four armies: the Army, the Navy, the Air Force and the Home Guard.
The book is authored by Niels B. Pedersen, who for more than 40 years has been gathering and interested in this topic. Through his service as a soldier, he has created a large network of other collectors, several of whom have large collections they have kindly made available for these releases.
The publisher Devantier and the author are proud to finally be able to present the first volume and hope that this will be well received.
Payment on Paypal to elprise@yahoo.dk or electronic transfer.
Write to the autor on ledhisthdmvs@gmail.com for bank transfers.
Images form the book: